Are you an SRF/YSS devotee 50 years or older? If so, you are cordially invited to respond to a survey designed by the Elder Forum.
The purpose of the survey is to find out how Yogananda Seva can best support elder devotees' sadhana, enhance their participation in Master's devotee family, and create spiritual fellowship. The survey takes most people less than 20 minutes to complete.
To access the survey, please click here.
The Elder Forum is also looking for an additional 350 devotees who are willing to participate in surveys on an ongoing basis to assess the evolving needs and interests of elders in SRF/YSS and to assess the efficacy of the programs that have been developed. Follow-up surveys will be sent to this group every six months and each survey will take approximately 15 minutes to complete. To date, 150 devotees have signed up for this service. If you would like to serve by completing future surveys, please click here and sign up for the "Survey Participant" Service Opportunity with the Elder Forum.
The YSO Elder Forum team began formulating this first large-scale survey to discover how to support the sadhana of older SRF/YSS devotees around the world in May 2020. The Elder Forum team collaborated with an SRF devotee—a decision scientist—to create a questionnaire gleaned from meetings with 10 focus groups. The focus groups were composed of devotees who had signed up as Elder Forum volunteers on the YSO Volunteer Portal. Their mission was to determine the kinds of survey questions that would best assess the needs of the SRF/YSS elder population.
Beginning in July 2020, the Elder Forum focus groups started meeting in groups of six to eight devotees who shared common characteristics—they all attended an SRF temple, center or YSS kendra, or lived distantly from an SRF/YSS center, or were members of minority groups, or spoke the same language, or lived in the same country.
The focus group participants were asked how they would like to serve SRF/YSS in future years and how the Elder Forum could best support their sadhana. Common themes arose from focus group members. The majority said they would like to dive deeper into Master's teachings and strengthen their attunement with the Guru. They wished to better understand this latter stage of life through the lens of the teachings of Paramahansa Yogananda. They valued being together in spiritual community to support their sadhana and to build connections with others, according to founding Elder Forum coordinator Cynthia Trevarthen of the SRF Hollywood Temple.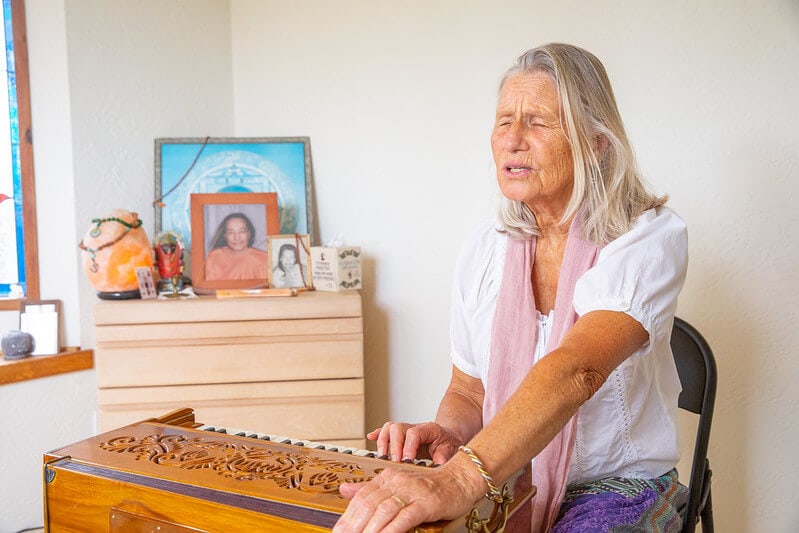 Participants also expressed concerns about coping with the natural physical and mental changes of aging while maintaining their spiritual practices. They were interested in exploring how to overcome isolation and continue their interactions with other devotees during the latter ashramas (life stages), including vanaprastha (retiring from outer responsibilities) and sannyas (withdrawal into spiritual life). They also expressed the need to develop fluency in the use of technology to access the online services of SRF/YSS and to help with daily life activities.
Focus group members also expressed how much they enjoyed being together to share spiritual fellowship. This led Cynthia, and co-coordinator Steve Guardarama of the Encinitas Temple, to invite the almost 80 focus group members to join together on a Zoom call during Convocation 2020 for spiritual fellowship.
This was the genesis of the monthly Elder Forum Lay Disciple Satsanga meetings that began in October 2020 and continue to this day. These satsangas begin with a short meditation after which a leader reads a quote or anecdote from Paramahansa Yogananda. Participants are then assigned to break-out rooms, where they are able to reflect upon the quote or anecdote and share what Master's words mean to them, while not interpreting the Guru's words. "We noticed that something special happened at these meetings," Cynthia shared. "It was a form of service. You may think you're joining for yourself, but by listening to others, you are providing a service to them…We're putting love into the ether by being in that compassionate space."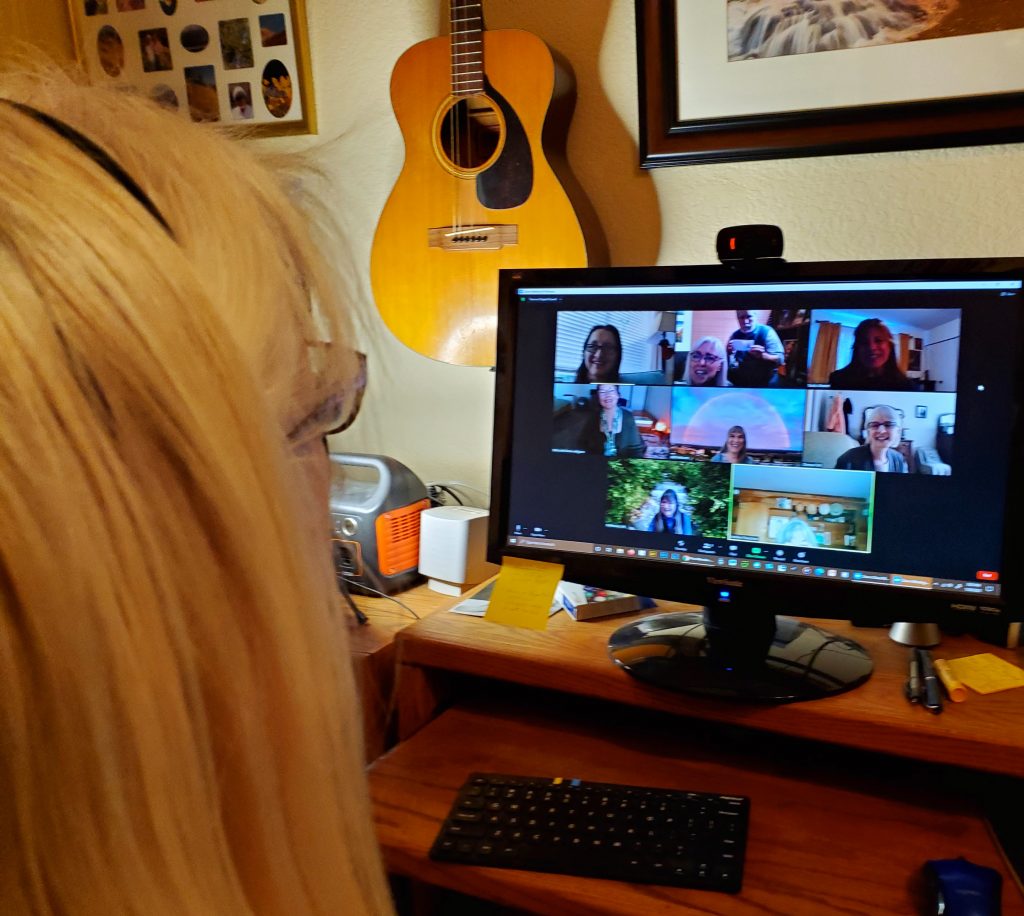 In one recent Elder Forum Lay Disciple Satsanga that I attended, the volunteers were asked how the SRF teachings elevated their consciousness. I was moved by the sincere, enthusiastic, open, and loving way in which each participant shared their reflections. A warm and accepting environment was created that encouraged introspective exploration of the Guru's teachings.
Upcoming Elder Forum Satsanga themes include "Practicing the Presence of God" in May and "The Spiritual Warrior" in June. Click here to log onto the Volunteer Portal for more information and to apply to join the satsanga group.
"It's been a huge support during a really hard time," said Katryn VanTassell, a devotee from Salem, Oregon, who is now co-coordinating the Elder Forum team with Steve.
The Elder Forum Satsangas are "like hanging out with devotees after a temple service to discuss the service with your friends," Steve added. "In serving in the Elder Forum, my worldwide family has expanded. I have felt it is a wonderful opportunity to share Master's vibration with fellow disciples around the world." The Elder Forum Lay Disciple Satsangas are just one example of the kinds of programs, services, and activities that can emerge from the Elder Forum.
The Elder Forum would like to spread the joy of serving our Guru by asking you to fill out the Elder Forum survey. This will help them learn about what other services, events, and programs may benefit those devotees who are age 50 and older.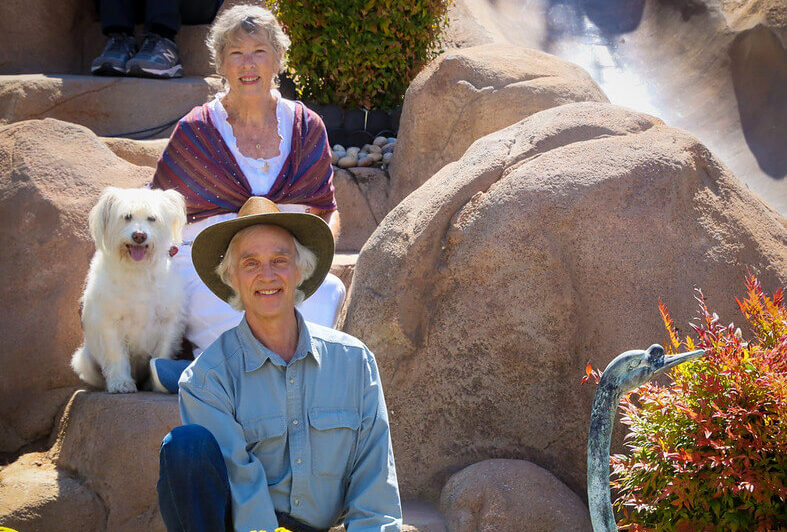 Elder Forum team members said they hope that a wide spectrum of devotees will fill out the Elder Forum Survey. The survey covers multiple subjects including how participating in lay service programs can support your spiritual life and the kind of support you may need to facilitate the use of technology to access online services. The survey concludes with a short section on general demographic information about each SRF/YSS survey participant.
"Completing the survey not only serves the Elder Forum itself and elders around the world, it also serves those who become elders in the future," said Sue Kenney, a devotee from Colorado who is the Communications Coordinator for the Elder Forum. "Future generations of SRF/YSS elders will benefit from the work of the current generation of elders as we prioritize projects from the survey. Master always said to think big and beyond the time in which we were born––we have that opportunity! We are all working to make this world better for those who are yet to come!"
Adds Adriana Lima, an Elder Forum leadership team member from the SRF Center in Rio de Janeiro, Brazil: "In this stage of life devotees aim toward a deeper spiritual life centering around sadhana. The programs that are being created by YSO Elder Forum for this very new community will benefit thousands of SRF/YSS devotees, helping create a sense of belonging, unity, support, sharing of ideas, and the opportunity to meet divine friends from across the globe."
Click here to access the Elder Forum Survey.
In addition to completing the survey, if you would like to receive further communications about this survey and other Elder Forum surveys, including results of the survey, please provide your email address here: