"If you cling to a certain thought with dynamic will power, it finally assumes a tangible outward form."
— Paramahansa Yogananda, Where There is Light
I asked David Stember, one of the dedicated devotees involved in the inception of YSO, what mechanism has made it possible for volunteers to be organized so rapidly and efficiently in such a short time. He explained, "This Yogananda Seva model is energized by being able to tap into the worldwide community of dedicated lay members with decades of discipleship. They are a dynamic volunteer force who share a commonality of service and discipleship."

David, along with Pat Conahan and Jay Fishman, followed the original directive that SRF/YSS President Brother Chidananda gave to them in 2018 to develop a plan for volunteer engagement that would make it possible to provide meaningful service opportunities and utilize the skills of the vast pool of SRF/YSS devotees throughout the world. As advocated by Paramahansaji in the quote at the beginning of this blog, Brother Chidananda's initial thought has indeed assumed an outward form.
The Initial Experiment — Serving Together Remotely
How to implement the idea and create a practical structure for a brand new organization was a challenge that they set out to meet. At that time, August 2018, David, Pat and Jay lived in different cities. Meeting via Zoom, they learned how to work with and through this new evolving video-conferencing technology. Meeting this way twice a week over several months to prepare a comprehensive proposal, they eventually received a positive response from Brother Chidananda.
David pointed out that five years ago, working from different parts of the country wouldn't have been possible. "We could do this only because of the great advances in digital technology — something Pat, Jay and I experienced as we worked together to create the proposal.
"This was an important learning experience for us. In addition to doing valuable work together, we also were able to form meaningful relationships with each other while serving Master remotely," David added.
Through this experience, they realized that digital technology was key to growing this initial network of volunteers. More skilled SRF devotees came onboard. Their work included beta testing programs to support devotees worldwide and creating the all-important management foundation for the fledgling organization.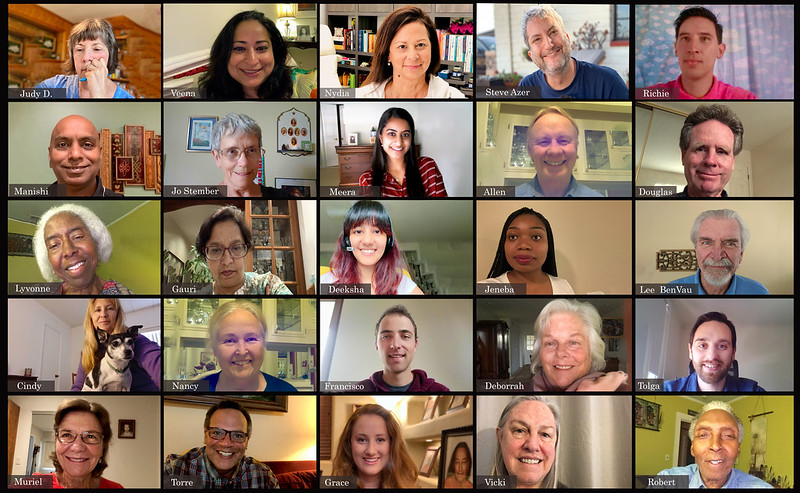 Management Structure that Encourages Collaboration
The simple management model Yogananda Seva uses encourages team collaboration among a large number of volunteers and allows for evolution to meet typical needs and challenges as the community continues to expand the number of volunteers and programs. David uses the analogy of a pyramid, headed by Brother Chidananda, who provides high level guidance for all the leadership teams' key decisions. David and Pat serve as co-executive directors who, along with a Coordinating Council of devotee members, are responsible for the ongoing management of YSO. The rest of the structure is based on formations of teams for each of the programs and work areas.
A core group of managers consists of YSO staff members and volunteers. They in turn help to guide and manage over 40 team leaders within programs and work areas. The team leaders in turn coordinate the volunteer teams under their direction, and depending on the complexity of the programs, subgroups are formed which are managed by one or two leaders for each subgroup. As more programs develop, this pyramidal foundational structure enables additional teams to be formed, along with bringing in additional leaders and sub-teams. Each group coordinates via Zoom, Slack, or other digital technologies by meeting weekly or as needed.
While team formation was underway, logistical issues involving office operations were also addressed. SRF provided space for an office near the Encinitas ashram and Rebecca Caroselli of Encinitas, CA, came onboard as office manager and director of communications. Soon after, additional contractors and staff were added, including Mike Wilson of Encinitas, CA, as Operations Manager. Although Mike had retired from the business world, he joined YSO, first as a consultant and later as a full-time employee to plan and initiate systems for internal operations including human resources, contracts, insurance, and document control. "Our role is to smooth the path so everything works well, now and in the future," Mike said.
Dedicated Staff and Volunteers Offer their Service to Help Programs Grow
The successful launch in October 2019 of the SRF Online Meditation Center (OMC) under the direction of SRF center department monastics — one of the flagship programs supported by this global network of volunteers — was the culmination of months of planning and training for volunteers serving as meditation leaders and the ushers who are responsible for the technology that makes it all work.
One of the meditation center's team leaders is Jackie Valone, who lives in the Washington, D.C. metropolitan area. A Kriyaban for many years, she had been actively involved at the Washington, D.C. Center until the COVID pandemic. Now she happily serves many hours daily as a volunteer in YSO in several ways, including general administration for the OMC program team and as one of the executive-level coordinators in the YSO managing group. When she began volunteering in October 2019, the OMC consisted of approximately 25 service leaders and another 30 online ushers. Now there are more than 270 OMC volunteers responsible for 52 services each week. More volunteers will soon be added. She points out that since its launch in 2019, everything has been running smoothly. "We hardly ever have an issue during the many meditation services each week," Jackie said when I talked with her recently. "This speaks for how well it was organized. The foundation was laid for future growth and we keep building on it." Although Jackie is a volunteer, she devotes as much time to the Yogananda Seva as if it were a fulltime job, which she also has as a consultant to the U.S. Department of Defense. "There's nothing else I'd rather be doing," she remarked. "It is a joy, a privilege, and an honor to serve."
Andres Echandia, OMC Program Manager and resident of Medellin, Colombia, initially began serving through Yogananda Seva as a volunteer translator for the volunteer-staffed Global Help Desk supporting SRF Membership Services. Recently, he was asked to become a full-time employee of Yogananda Seva and he eagerly accepted.
"Being on the staff is a wonderful opportunity to learn from such spiritual and skilled devotees. There is so much support and this is helping my sadhana to grow professionally and spiritually," he said. As the OMC Program Manger, Andres is supported by an Assistant Program Manager staff member, Brian Caroselli, and advised by an overall Senior Program Manager, Ravi Parikh. As a managing team, they oversee the numerous sub-teams within the Online Mediation Center's volunteer structure. "Many volunteers serve more than 40 hours each week. It is so inspiring," Andres said.
Volunteer Portal Programs and Service Opportunities Engage Devotees with Diverse Interests
The Volunteer Portal, a part of the YSO website, was launched in May 2020. It became an important way to engage devotees from anywhere in the world in registering for volunteer opportunities that support SRF/YSS. The volunteer response was so enthusiastic that currently there are more than 1,000 active volunteers — and many more are waiting for their assignments when the opportunities become available. Devotees are also encouraged to suggest potential programs in addition to those in the planning stages.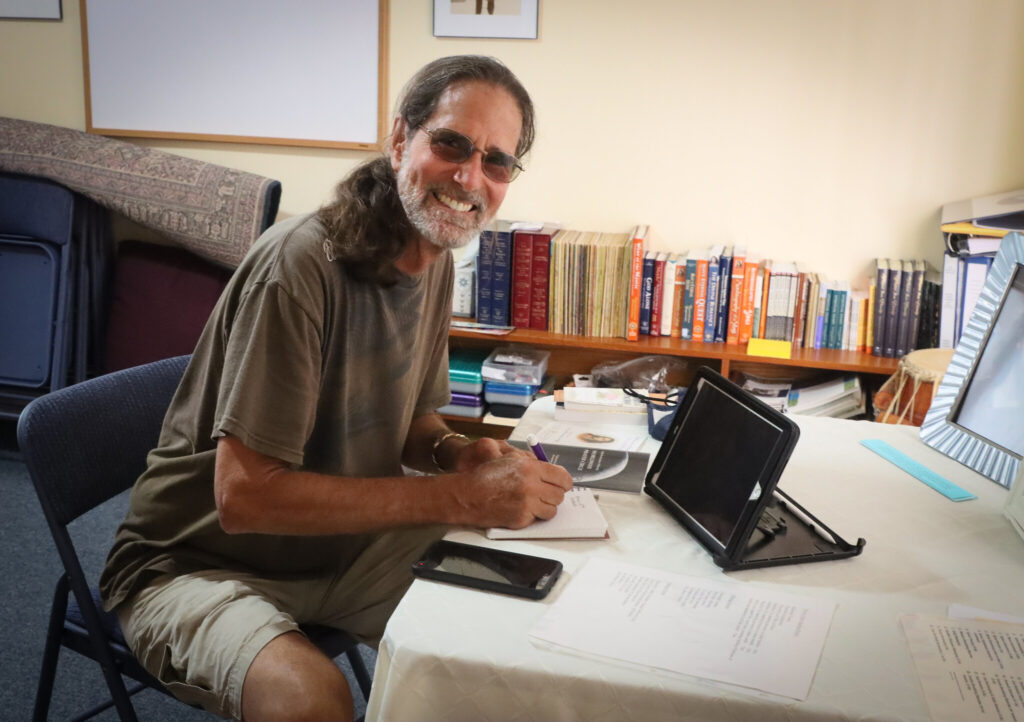 The Online Harmonium and Kirtan Training is one program that recently launched a pilot test after months of research, planning, and training. In January 2020, five devotees formed a team to transform the harmonium training concept into a reality. Currently, 38 volunteers are working on various aspects of the program, including creating training videos and "how to repair your harmonium" articles. The training videos will provide detailed instructions suitable for beginners as well as more proficient musicians. Considerable time has been devoted to planning, creating, and producing these videos that will teach the techniques and mechanics for playing all of Master's Cosmic Chants.
Katie Chaput, an Online Harmonium and Kirtan Training team leader, balances her volunteer time, which she estimates at five hours daily, with her professional career as a teacher specializing in intuitive creativity. "I'm very grateful to be involved," she said. "Master teaches us many, many lessons. I've seen him work through the challenges that have come my way. He's attracting those individuals with the skills needed at just the right time."
For example, when the team decided that animation would help with the learning process, a devotee with animation skills soon became available to help. And when the team needed technical support, two other devotees promptly came along who fit well into those roles.
"An Early-Stage Experiment"
In a recent blog on Self-Realization Fellowship's website, Brother Chidananda wrote:
"In many ways, Yogananda Seva was an early-stage experiment (a highly successful one!) to develop new methods of networking digitally to better coordinate the services of our dedicated lay members around the globe.

As a result, over the last year we have witnessed an inspiring surge in serviceful activity from lay members all over the world, who have eagerly volunteered for the various projects I asked Yogananda Seva to undertake to support SRF and YSS activities. It could not have been more timely, since many of these projects contributed to the abundance of inspirational content and programs that SRF and YSS have been able to offer online during the unforeseen pandemic shutdown of 2020. The experience gained through these initial experimental 'pilot programs' will be valuable as we move into the next phase and formally launch the Voluntary League of Lay Disciples."*
Brother Chidananda will provide detailed information next spring. Meanwhile, Yogananda Seva continues to coordinate the service of SRF/YSS devotees around the world as we follow Master's instructions to live and exemplify his teachings.
*Source: https://yogananda.org/blog/upcoming-launch-of-the-voluntary-league-of-lay-disciples