One of the joys for us at Yogananda Seva is hearing so many different stories about how devotees are connecting with Master's teachings around the world. Recently we learned about a group of teen-aged devotees who took it upon themselves — to their parents' delight! — to use the miracle of digital technology to share their spiritual sadhana with each other. -Editor's Note
Sophie, 13, of Encinitas, California, humbly states that organizing Sunday morning online meditations for her friends was nothing remarkable. But her friends feel otherwise.
"It's been so good to do our spiritual routine together," says Serenity, 15, of San Marcos, California. "It's fun for us to see each other–even though it's through technology. It feels better to meditate with others than by yourself."
Added Christa, 14: "It's really nice to meditate together because we're all in the same vibration at the same time. It can be hard to concentrate when you're by yourself. Being together online, even when we're far away, gives us the motivation to meditate more deeply."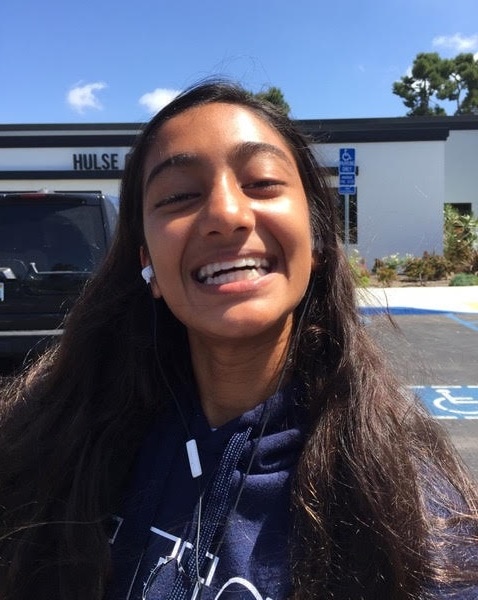 Sophie also acknowledges that the group meditations have been spiritually beneficial. "We do EE's and bring the life force into ourselves and then meditate. It feels so good. I feel super peaceful and connected with everyone. And it's such a special feeling if you open your eyes and see everyone else meditating. I feel God's presence."
The girls, who attend the SRF Encinitas Temple, started meditating together on Sunday mornings via Zoom after the corona virus temporarily halted in-person SRF meetings. Each of the now-seven-member-group is assigned a role in leading a part of their one-hour gathering. One leads the SRF Energization Exercises, another leads the preliminary breathing exercise and opening prayer, another plays the harmonium and leads the chant, another leads the meditation, another leads the closing prayer, and another the healing service.
Christa said that the girls initially were going to rotate their roles but each girl prefers to consistently lead the same part of the meditation service each week. "The only thing we rotate is the opening and closing prayers," she said. "I really like the prayers because we make them our own."
What They Do
The girls also have had discussions about Spiritual Diary quotes. During one session, they randomly chose dates and Serenity read the Spiritual Diary for the chosen dates. Another time, each shared a quote from Master with the group that they then discussed. Sophie says that the group talks about the "value of God, the lessons Master has to teach, and how meditation is vital."
On a recent Sunday, they made "Father's Day" cards for SRF President Brother Chidananda and SRF Encinitas Temple Minister Brother Balananda, each from their own home. One girl had the idea, another had the SRF Headquarters address, and they all had the desire to express their devotion and creativity. At another Sunday meeting, they made origami hearts, and at another, they made Mother's Day cards for their moms.
How They Look Forward to Meditating Together
Sophie said the girls' enthusiasm to continue meditating together week after week has demonstrated the value of their meetings. "It's meaningful because people want to attend and look forward to it." Sophie said that one time she was late in getting the Zoom invitations to her friends and their mothers called her mother to make sure the group was still meeting.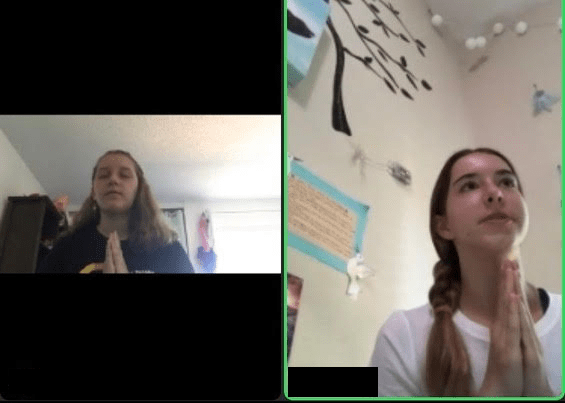 Sophie also discovered that the online Zoom meditations were easy to organize and a good experience in developing leadership skills. "I'm learning how un-difficult it is to bring people together to talk about God."
And how is this different from meditating with an adult leader? "It's a different experience leading it yourself versus being led," Sophie says. "We are all leading it together. Everyone does their part and enjoys it. I grew up with a teacher leading us through a topic. Now we're taking ownership of our roles. We each take responsibility for co-leadership."
Reaching Out to Younger SRF Devotees
Following the positive experience Sophie had of meditating with her friends, she reached out to a young devotee she met at Convocation 2019 in the Parent-Child Room, Mukund, now age 8. She said she saw a spark of God in his eyes, and decided to contact his mother to see if they could meditate together after they were kept home from school when the pandemic broke out. Sophie also met several other young boys at Convocation, who she also hopes to include in their meditations.
Sophie recalls the strong impression this group of SRF children made upon her at Convocation because of their enthusiasm for Master and the spiritual path. "I loved playing with them," Sophie says sincerely. "Once you connect with the things they like, and if you are passionate about those things too (she is), it is easy to pull off a Zoom call where they can all connect with each other. Then you can talk about God and meditate."
On a recent Monday, Sophie met with Mukund on Zoom from her home in Encinitas, California, and his home in Houston, Texas. After talking about how it felt to be out of school during the school year–and why–they meditated for 10 "whole" minutes.
Sophie also read to Mukund from the Spiritual Diary. "We talked about what it means and how it relates to him," Sophie said. "He told me what he understood, and it was amazing, about how we are God's children. He had spurts of really evolved thinking. He understands God, you could tell."
Mukund's mother, Divya, who discovered SRF when she was pregnant with Mukund and named her child after their Guru, is equally enthusiastic about her son's meditations with a fellow devotee. "He was filled with serenity and peace after they meditated," Divya said. "The 'before and after' was like night and day. His peace was perceptible. I wish Sophie could meditate with Mukund every day!"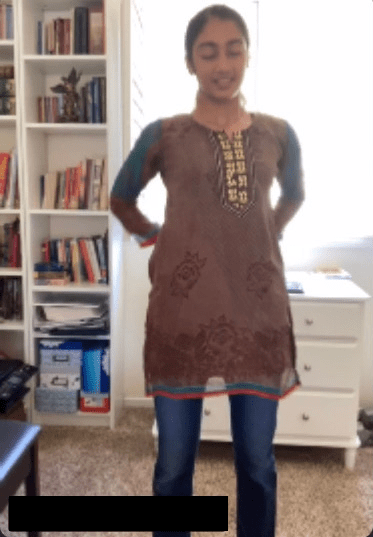 It seems Divya's prayer was answered. Sophie and her friends met with Mukund and other SRF children via Zoom during the morning meditations of Convocation week to give the parents a chance to meditate. On one morning of Convocation, the children prayed and meditated together and then drew spiritual pictures of swans and fish as they chanted "I am the bubble, make me the sea." Sophie enthusiastically adds: "It is such joy to connect with other young devotees this way!"