Six hours of computer issues, perplexing problems, complications, and other challenges did not diminish the enthusiasm and dedication of the SRF/YSS volunteers organized and coordinated by Yogananda Seva who were determined to help an SRF devotee gain access to the 2020 SRF Online Convocation. One complication was that the devotee was almost blind and was dependent on their help. Finally, the devotee was able to access the link so he could experience Brother Chidananda's inspiring opening talk of Convocation. One of the volunteers commented "We had tears in our eyes when this occurred."
I had tears in my eyes as I listened to the stories and experiences reported by some of the 140 volunteers who formed the first ever SRF Convocation Global Help Desk. The love, joy, and goodwill that was so prevalent during the Convocation program was also flowing amongst these very dedicated volunteers whom I had the opportunity to observe and listen to as team leaders and monastics expressed their appreciation for all their hard work, dedication, and quickly-learned skills.
Challenges
Their challenges were great. For the first time in SRF/YSS history, Convocation could not be held as a public gathering because of the COVID-19 virus. Technology provided an alternative–a global online gathering of SRF/YSS students and guests. Registration was accomplished by the existing SRF Membership Services Department as in previous years. However, anticipating a much larger response than in previous years, the request was made for Yogananda Seva to organize volunteers who could assist. A Yogananda Seva Help Desk had already been formed to assist devotees when the SRF Online Meditation Center (OMC) was established in October, 2019. Sequoia Cheney, Erin Estrada, along with 35 other volunteers helped SRF devotees and friends having difficulty accessing the OMC services as well as other inquiries relating to Yogananda Seva projects and programs. From this beginning, the Convocation Help Desk grew and merged with another existing YSO volunteer team, the International Help Desk, that had also formed earlier this year to assist SRF Membership Services with inquiries about SRF digital applications and programs in English, Spanish, Italian, German, and Portuguese.
Within a shockingly short window the Yogananda Seva Help Desk achieved the impossible: they formed a global team, configured a new platform, developed new processes for a brand new, untested initiative, created training materials and conducted training while supporting the development team test the new event platform. Simultaneously, they supported registrants as the system encountered ongoing technical issues. It's a lot to type let alone accomplish! They truly did jump into the deep end of the pool. In hindsight, it seemed it was not achievable. Yet the team of volunteers pulled it off with a constant sense of joy, good humor, and calmness. They worked long hours and through continual, seemingly insurmountable challenges, all with the selfless goal of helping others have an amazing Convocation experience.
Teamwork
This united effort involved an intense five-week training program for the 140 volunteers, many of whom had to learn quickly about complex computer issues that might face them. Volunteers were broken up into five teams: English (48 devotees); Portuguese (23 devotees); German (11 devotees); Italian (18 devotees); and Spanish (14 devotees). Two members of each team received hours of specialized training, which they then conducted for their team participants. Additionally, a Yogoda Satsanga Society of India (YSS) team consisting of 19 devotees was formed as well as a Video and Translating Team with ten devotees. This team has been serving for the last few months in the International Help Desk, under the direction of Andres Felipe Echandia.
As Convocation registration began, their services were called upon with even greater urgency. Some registration issues involved changes of names or email addresses that hadn't been registered with SRF previously. When these involved complications, they were referred to the SRF Convocation Global Help Desk. Inquiries were handled by phone, email, and for the first time, Live Chat, which turned out to be the most popular. On the lower right side of the SRF Convocation web page was a Chat icon, which was staffed 24-hours a day by SRF/YSS volunteers organized by Yogananda Seva. Some were simple to solve; others like the example above involved much time and effort.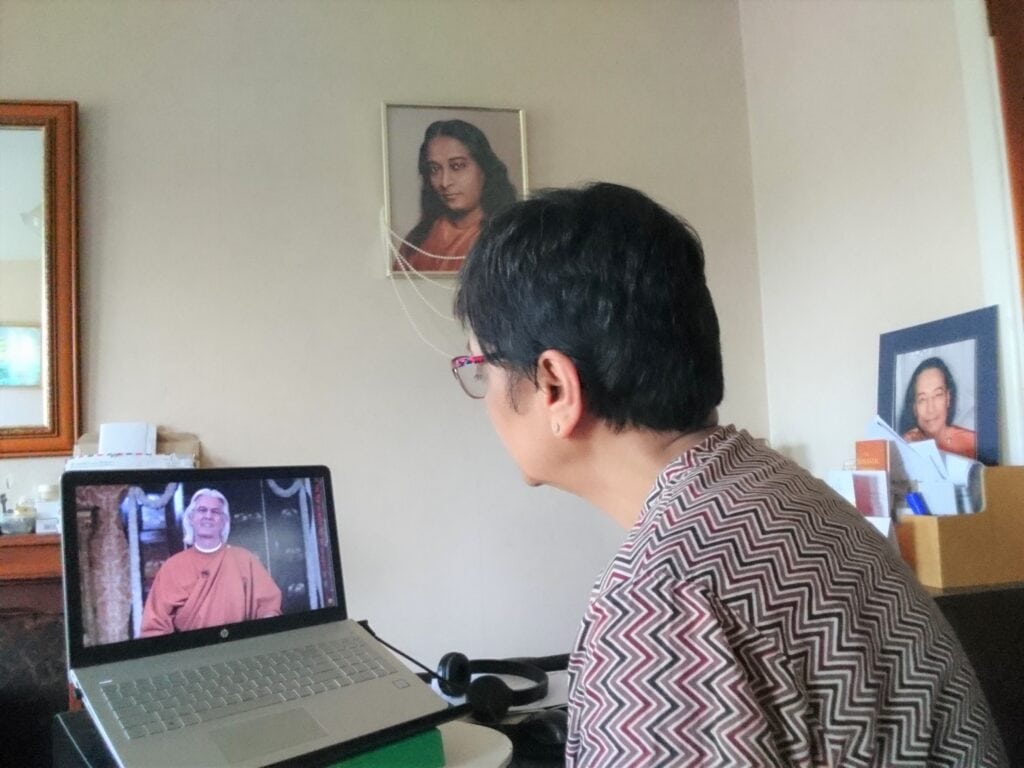 One inquiry involved an 87-year-old devotee not familiar with computers. The volunteer assisting her had spent more than two hours attempting to resolve her issue with no success. After trying everything that she had been trained to do, she asked the devotee to join with her in praying to Master and Krishna (it was Janmashtami day of Convocation) for their help. Silently praying and meditating, after a short time they resumed their efforts. In just seven minutes the devotee was connected to Convocation. "We had such joy," the volunteer commented. "The devotee promised that she would not turn off her computer for the duration of Convocation!"
In all, more than 14,000 issues were solved by the Global Help Desk volunteers. Sister Nandini from the SRF Membership Services department expressed her gratitude. "Master tells us to bite off more than you can chew and then chew it. This became a trial by fire. Many had little training and no opportunity to have trial runs. We learned on the fly. We so much appreciate all that you did."
David Stember, a YSO Co-Executive Director commented that they were successful because the volunteers all showed "heart, discipleship, and willingness to support one another".
Another historic aspect of this endeavor was pointed out by a YSS monastic who was involved in helping to coordinate the YSS-side of the Convocation Help Desk. "This was the first opportunity [for SRF volunteers] to work closely with YSS. East and West were working together as one world family to help Guruji."
While the volunteers were happy to be of service, they expressed their joy at the blessings they received.
"One of the many gifts that Master gave me during this Convocation has been the blessing of serving with such wonderful devotees from all over the world!" Erin Estrada said. "We had 140 devotees from 13 countries and five continents serving the more than 33,000 Convocation registrants by answering their questions, helping them with technology and feeling their love and gratitude for such a wonderful Convocation. I can truly say that I have dear friends all over the world! Master has a lovely large family!"
Patrick Conahan, a YSO Co-Executive Director added, "I have spiritual awe as I watched what came together. Guruji has blessed us to be able to serve. How we serve together is the spirit and culture of seva bhav, a shared state of love and humility through acts of selfless service."