Thousands of Self-Realization Fellowship/Yogoda Satsanga Society of India devotees joined together May 30 for a historic online daylong retreat filled with meditation, study, prayers, video and audio presentations all focused on the noble truth "The Kingdom of God is Within You." Two different events were offered so participants could experience the divine blessings in their own time zones and in their own homes.
The Western Hemisphere SRF retreat was conducted by Brother Nakulananda, minister in charge of the San Diego Temple. The YSS retreat was conducted by YSS Vice President Swami Smaranananda. Each was assisted by dedicated Yogananda Seva volunteers, who served in key areas including setting up all the audio-visual equipment, managing the Zoom meetings, and helping anyone having difficulty joining the online retreats.
As explained by SRF, "the basic principle of a retreat is to let go of outer activities; become receptive to God and let Him be the supreme thought in your mind and the burning desire of your heart." (God First, A Retreatant's Pocket Companion).
As I prepared for the eagerly anticipated retreat to begin, I meditated in my home, delighted that I could experience the blessings of a retreat without having to travel to a distant place. The Covid-19 virus has kept most of us homebound. But I reflected that I would not be alone. Rather, this worldwide retreat meant that my efforts would join with those of thousands more around the globe.
My heart was filled with joy and I marveled at the technology that makes this happen. The feeling was similar to an episode many years ago when I lived in Los Angeles. I was leaving my home to attend my first ever retreat, a ladies Kriyaban retreat at the Hermitage in Encinitas. My trepidation was replaced by a surge of joy and anticipation and I felt that Guruji would bless my efforts during that weekend. So when I felt something similar that morning of May 30, it confirmed for me how our great Guru is blessing us in so many ways.
Brother Nakulananda's opening remarks emphasized that we do not have to be in a temple or any other physical location for a retreat. Rather, we were joining together in a wall-less temple that is not limited to a physical place. He offered encouraging suggestions for how to make the most of the day and also read an inspiring letter from Brother Chidananda addressed to the retreatants.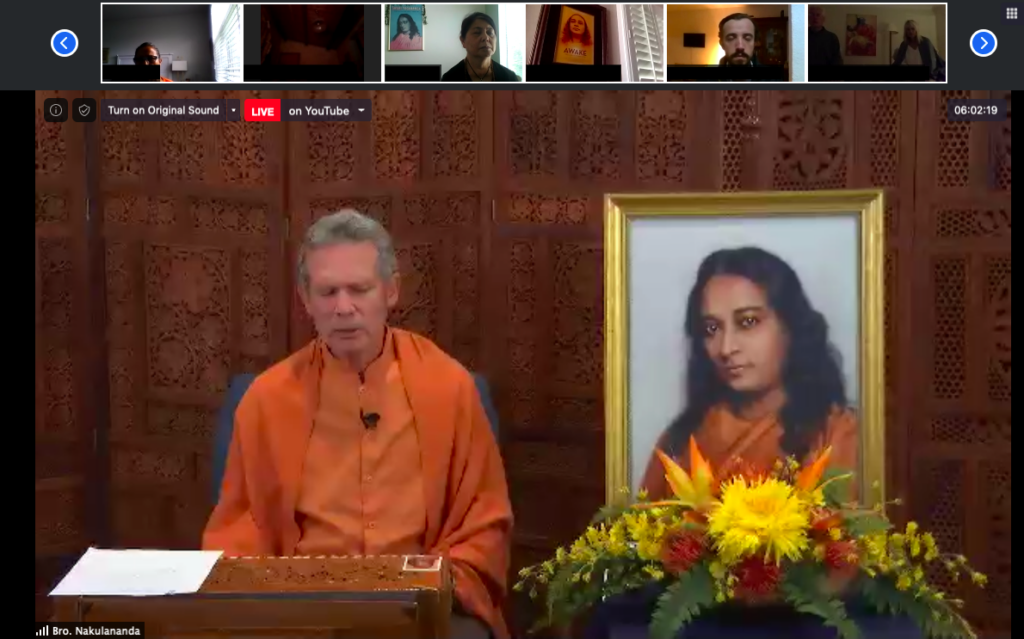 As we spent the morning in meditation and chanting, feelings of peace and love were intense. Although it is possible to spend a day in seclusion, prayer and meditation, it was much easier with the support of many others doing so simultaneously.
The day's inspiration included readings from Discourse 61 in The Second Coming of Christ by Paramahansa Yogananda, a rare video of Brother Anandamoy about how to get the most from a retreat, and moving audio comments from our late president Sri Daya Mata. Afternoon meditation and concluding Worldwide Prayer Circle were powerful and profound.
There was so much to absorb from the retreat. For me, I appreciated Brother Nakulananda's encouragement that we hold onto what we had gained during the day of retreat and be patient and have perseverance. He added, to help us do this, study the lessons again and again. Also, he said that watching our thoughts during the day will guide our spiritual progress because this technique helps us see how often we think of God. As we bring our minds back to God, we remind ourselves why we are here (on Earth) because our goal is God realization.
It has been very gratifying to see the comments sent to YSO following this special retreat. Here are a few:
"Joy, deep gratitude and love are nearly bursting my heart after this most blessed YSS online retreat. It was and is Heaven to drink a whole day long with thousands of brothers and sisters in God and Guru from the fountain of peace, love, and joy with united hearts and minds. Master's loving presence was deeply felt and my only desire is to reciprocate this love at His feet. We gathered much inspiration from the wealth of Guruji's teachings, beautifully combined and explained by Swami Smarananandaji. A highlight was the insight of a true retreat by Brother Anandamoy. This day will always stay vivid in my memory as a transforming experience. It has given me a renewal of determination to meditate ever more deeply and with even greater zeal until the long-awaited treasures are found within. Deeply grateful and ever united in our blessed Gurudev."

– D.T., Switzerland
"Thank you. Thank you and thank you a million times for organizing this event. The peace and vibrations of divine love and healing it has brought unto our homes are inexplicable in words. We could tangibly feel Gurudeva communing with us. From the gruesome routine of the lockdown days, this was such a welcome and refreshing change."

– P.S.
"The YSS one-day retreat 30/5/20 was a spiritual experience of great beauty….The day was a spiritual jewel which I truly value. I was able to come closer to God and Guru through the focus on the theme of "The Kingdom of God is Within You." The silence, the meditations, the talk from Brother Anandamoy and your addresses resulted in great spiritual upliftment."

– Anonymous
"I participated in the online retreat yesterday. I wasn't sure going in, how it would be to be connected via a computer all day, but I was open and receptive. What I discovered was that it was a very profound and deeply moving retreat for me. Bro. Nakulananda was amazing and the range of different recordings, chants and readings all came together and were integrated into the process with such ease. I also very much enjoyed the fellowship of all the devotees around the world that were attuning together. It was an amazing and incredible experience – and had a depth and richness to it that I did not expect. I extend so much gratitude to you and the team that has come together to make this possible."

– S.W., United States
"Thank you for this marvelous time together in online retreat. My heart is brimming over with love and joy for you, our devotees, our Gurus, and God. This has changed my life."

– Anonymous
"Dear friends, thank you very much for this wonderful retreat. I can't utter any other word but thank you very much for the opportunity of participating in it. It was very profound. I feel uplifted and touched. Thank you all. May God and Guru bless and protect each one of you forever and forever."

– Anonymous
"Blessed retreat with Swami Smaranananda. The most transforming of retreats I have attended. Please make these retreats and YSS monastic services regular, continuing after lockdown ends. They are too precious to ever stop."

– K., France
"I enjoyed YSS online 8-hour retreat program so much. It was great fun and joy. Thank you very much for offering great opportunities."

– Devotee in Japan
"Today's retreat was a blissful experience with the joy and grace of Param Gurus. I am profoundly grateful and humbled for conducting such spiritual activities under the prevailing circumstances. Online meditation has proved for all of us a source of inspiration to overcome the challenges being faced in the present situation. May Guruji bless everyone on this planet."

– Anonymous
"Dear Friends, I just wanted to thank Brother Nakulananda, Brother Chidananda, and all those monks and lay disciples who made the Day Retreat possible. It was outstanding in every way. The vibrations were akin to Convocation. We all really needed this opportunity to reconnect with God and Guruji in a deeper way. Looking forward to the next one!"

– M. M., United States
"Jai Guru. My husband and I joined the online retreat. It was really a grand experience. We felt we were in our ashram. The entire programme was very good and meticulously organized. We are so fortunate that we are members of Guruji's family. We are thankful to all of you that you have taken great pains to conduct the retreat as well as conducting weekly meditation sessions."

– Devotee in India
"Jai Guru. One-day online retreat is very very beneficial to all of us. The way Swami Smarananandaji led is superb. We had a better concept of dharana in meditation. Eight hours passed just like that, and the retreat made us closer to God. Our heartfelt thanks to YSS monks who are giving us courage and the feeling that "We are there for you." Actually thanks is a very small word for expressing our gratitude. Once again thank you very much to everyone behind the screen and special thanks to Swami Smarananandaji. This retreat is like a dream come true. We didn't expect that we can have such a silent God filled retreat at home. Thank you very much everyone and may we look forward to more such retreats in the future. In God and Gurudeva."

– B. N., India
"I would just like to say how wonderful the retreat was. It is so nice after all these years to be able to go on a SRF Retreat again. I'm a senior citizen. I can no longer drive to the center in Florida because of the distance. It was just me, God and Guru and my little prayer table in my bedroom. They kept me connected to SRF. Now I feel like I am part of the family again….Thank you, thank you, thank you again for your kindness and your reaching out to those of us who are truly isolated. To know that we are a part of Paramahansaji's family. God bless all of you. My heart and my prayers are with you."

– P.M., United States
With such enthusiastic responses, it is the intent of YSO to offer more retreats in the future. Please check back for further developments.