Our guru, Paramahansa Yogananda, tells us that interacting with others of similar spiritual values is extremely helpful on the spiritual path. "Seek out good company, company that reminds you of God and of the noble things in life," he advised.* Even the name of his organization—Self-Realization Fellowship—emphasizes the value of finding spiritual fellowship and connection with other devotees.
Yet even though we're members of a worldwide spiritual family, it can sometimes be difficult to connect with other devotees, particularly if you don't live close to an SRF Temple or a Center. And as a young woman in her early twenties, I find that even on the occasions when I've been able to attend a meditation service or retreat, I'm often the youngest person in the room. I knew that there were other young adults on this path, and had even been lucky enough to meet a few online, but being able to find and connect with the larger community seemed a daunting (if not nearly impossible) task.
This is not an unusual challenge for Guruji's younger devotees, and the YSO Young Adult Sangha was created with this in mind—with the goal of facilitating connections between spiritually like-minded SRF/YSS young adults, especially those who may live far away from a Temple, Center, or Ashram. The Young Adult Sangha's inaugural global event took place on Sunday, May 24 via Zoom, with approximately 250 participants from 29 different countries around the world coming together in fellowship for a group meditation and a spiritual discussion.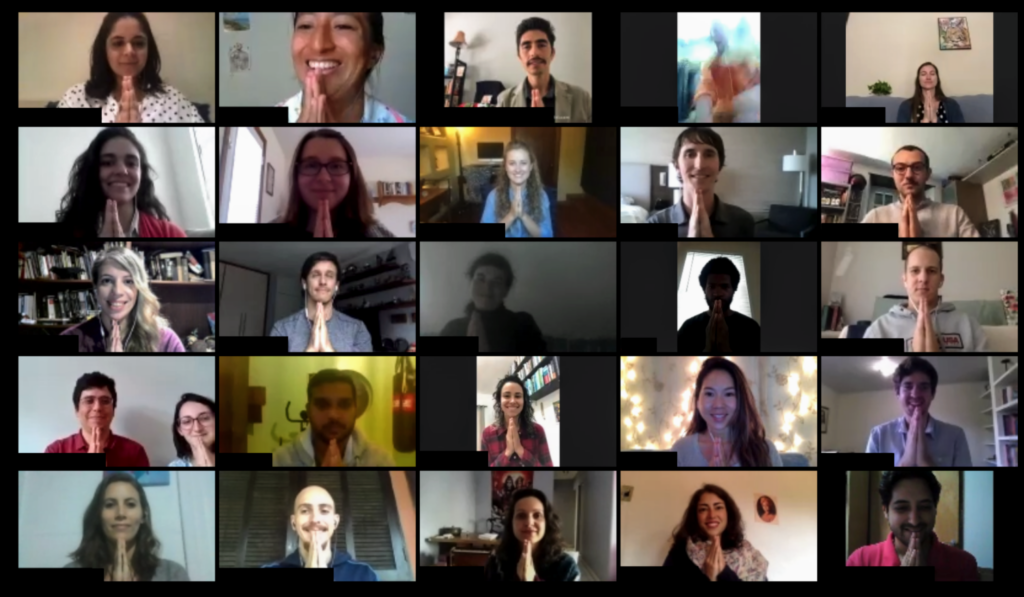 The format of the event was simple: group meditation, an introduction, and then discussion—first as small groups, and then all joining together in the end. We began with a meditation and healing service, after which two Young Adult Sangha coordinators, Meera and Jeanne, introduced the discussion. The meeting was then divided into a number of smaller breakout rooms, each one led by a facilitator who would help guide the discussion. After a half-hour of discussion and community-building, all of the groups rejoined the main Zoom room to share some of our thoughts before the meeting came to an end.
Though originally intended to take place only in English, several of the young adults stepped forward during our facilitator trainings and event preparations to help provide multilingual interpretation in four other languages. As a result, we were able to welcome devotees not only in English, but also in Spanish, Portuguese, Italian, and Hindi. It was a venture that came with a technological learning curve, but with some behind-the-scenes work and troubleshooting during our pre-event "rehearsals," the efforts on the part of the online ushers and coordinators gave way to a beautiful opportunity for us to connect with our spiritual brothers and sisters in multiple languages from countries around the world.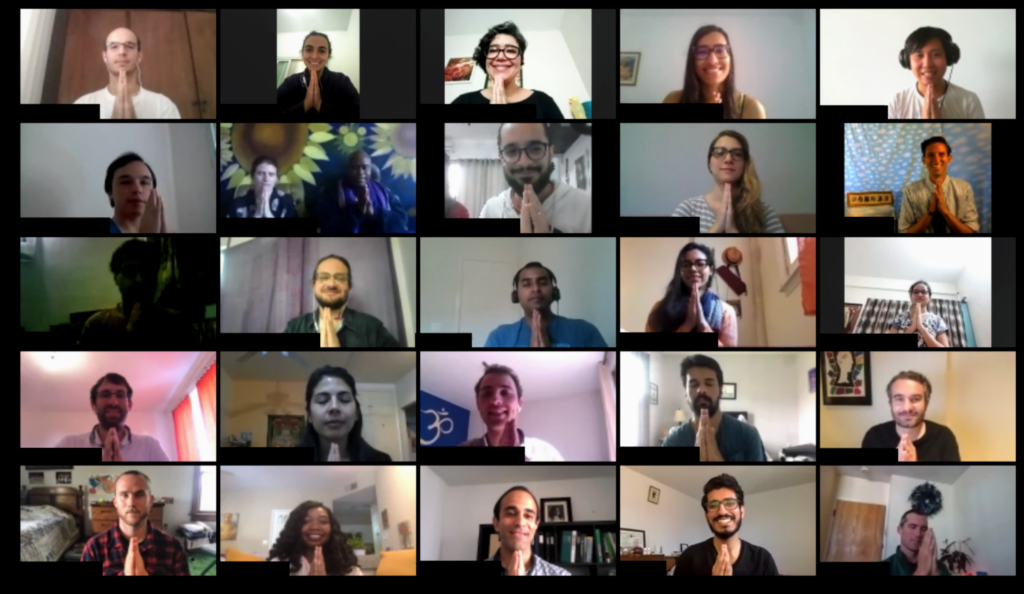 I was involved in the event as one of about thirty facilitators to help guide our discussion on what it means to be a spiritual young adult in these times and how this community can best serve us. My breakout room had nine participants (including myself) from the United States, Brazil, Germany, England, and India. We discussed how the spiritual path influences our choices, interests, and values; how it provides us guidelines for life; and how Guruji himself offers us protection and directs our lives. One participant in our group spoke very little English, and another member offered to translate in order to make sure that she felt included; though none of us had ever met before, the fellowship within our group was already tangible.
Getting to connect in a small group with other devotees was deeply meaningful, and the time passed too quickly—before we knew it, it was time to leave the breakout room and rejoin the larger conversation. After the breakout rooms were closed, a few of the facilitators were invited to briefly share some of the themes that came up in their discussion groups, and each facilitator recounted that they'd touched on something different, finding connection through our individual experiences as young adults on the spiritual path.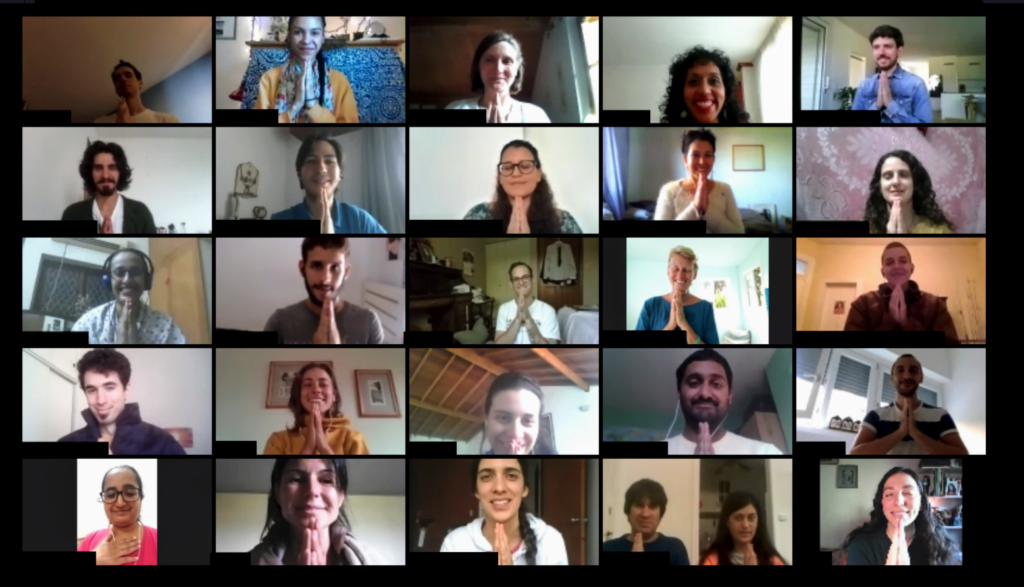 An hour and a half after it began, our meeting drew to a close, and participants started leaving the group. But then something lovely happened: As I sat there watching the faces disappear from the screen, hesitating to leave just yet, I realized I wasn't the only one reluctant to bring the meeting to a close. About thirty or forty of us hung back after the main event, not wanting to miss a moment. And for twenty minutes or so, we spent a little more time together as divine friends.
We found out what countries we were all joining from and what everyone thought of the event. We discovered that it was one devotee's birthday and sang a chorus of happy birthday to him. Someone expressed the hope that we could all meet in person sooner rather than later, and a devotee from Brazil suggested we should all come to stay at her farm. Another devotee even recognized me from social media—we'd followed each other on Instagram a while back, she in Israel and myself in the United States—and we had a moment of connection in the midst of the larger group. Eventually, our host had to end the meeting altogether, because no one wanted to be the first to leave.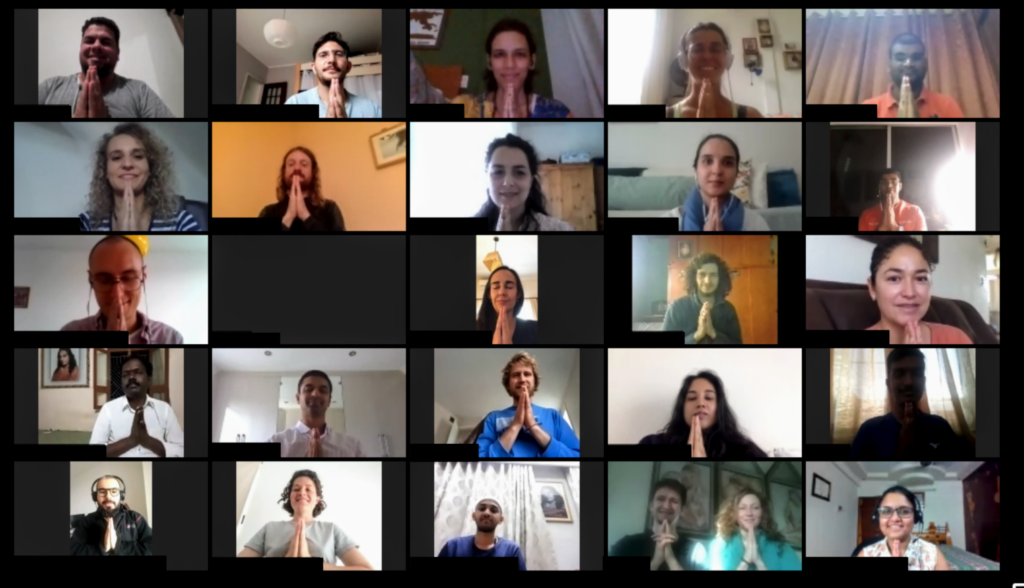 I think that says so much about the need for a young adult group and the value that so many of us will find in a community like the YSO Young Adult Sangha. As young adults, many of us are in the process of actively shaping our lives, and the search for friendship is often a significant part of that. Yet for those of us on the spiritual path, we are also seeking something more than just a human connection—we want to find spiritual fellowship, too. For those of us who have chosen to let Guruji guide our lives, our spirituality is often a significant influence on our choices and our relationships, and to find others who understand what that's like is a beautiful thing. If our event on Sunday was any indication, I think the YSO Young Adult Sangha has a bright future ahead.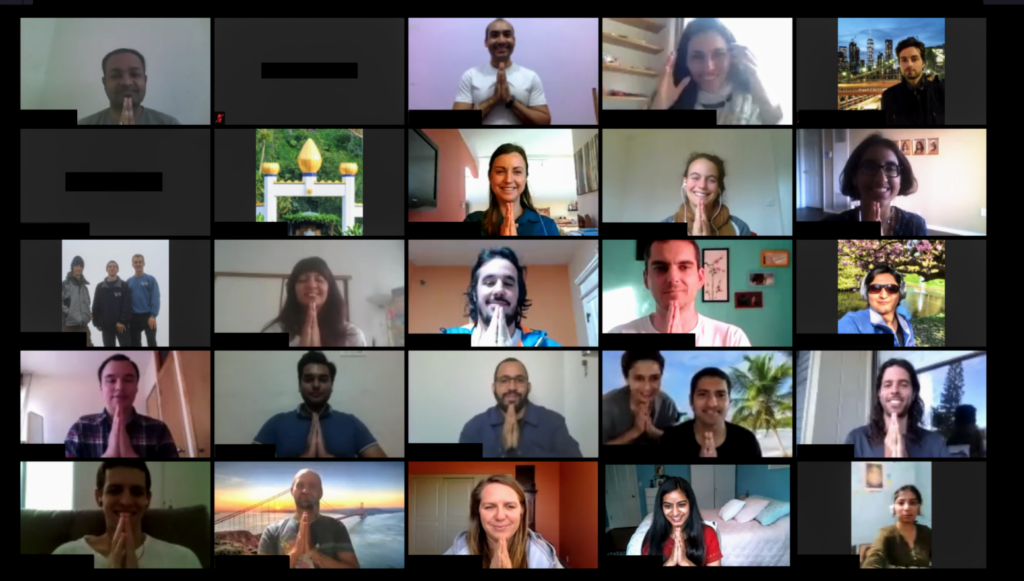 *Quoted in "Introspection: How to Realize Your Highest Potential" on the Self-Realization Fellowship website (https://yogananda.org/introspection-how-to-realize-your-highest-potential)