The story of how the SRF Online Meditation Center (OMC) was created by Yogananda Seva (YSO) is as interesting as it is timely.
It all began in late 2018, when one of the soon-to-be directors of Yogananda Seva, Patrick Conahan, reached out to Encinitas devotee Ravi Parikh for his help with an online lay disciple community project– a concept envisioned by SRF/YSS President Brother Chidananda. After a number of potential online projects were discussed, Ravi brought in several devotees to brainstorm about the ideas. They in turn brought in additional volunteers. Thus a team of SRF volunteers from across the United States and Canada gathered in May 2019 to implement the ideas for bringing the SRF lay disciple community together online.
By the end of May 2019, a team of about 12 volunteers had assembled. Through regular monastic guidance from Mother Center, the result was the beginnings of the SRF Online Meditation Center.
Members of the OMC team said they felt a sense of divine guidance—and timing—as they moved ahead on the program. "We all felt a call," says Ravi, who now is the program manager of the OMC. "We felt a willingness in our busy lives to prioritize this project—and that's how it happened so quickly. Guruji made it abundantly clear that we were supposed to be doing this—right now. We felt part of something important even though we weren't aware of the big picture. We spent a lot of time talking about the principles behind serving the Guru as a way of daily life—and everything flowed from there."
Ideas that emerged from the group's initial meetings ranged from live-streaming a lecture service or Lesson study from the Encinitas SRF Temple, to facilitating online meetings from devotees' homes around the world. Various communications platforms were explored. The goal was to achieve a sense of community—online. The group settled on Zoom because it was the most user-friendly interactive platform, enabling devotees to meditate from home and interact when necessary, creating a "wall-less chapel."
The initial program team tests meditating online as a group in a "wall-less chapel"
Once the platform was chosen, the group discovered that their natural skills, professional training, previous SRF service and life experiences fit together to serve the goal. Members of the group had expertise in administration, technical development, communications, scheduling and training meditation leaders, and meditation leader support. "It felt like we were pulled together by Master like pieces of a puzzle," says Wendy MacDonald, a 20-year SRF devotee and member of the initial team. "We each had different skills and strengths that seemed to lend themselves perfectly to what needed to be done. It felt like Master's hand was on it every step of the way. It was like an energetic force pushing things forward."
Looking back, it's clear why the team felt an urgency to have the online infrastructure in place, says Tim Haney, a 33-year SRF devotee who handled the technical aspects of the Zoom set-up. "It all makes sense now given current world conditions. It would have been hard to pull this all together now, at the last minute, if we hadn't started months ago."
To prepare for the OMC launch, which Brother Chidananda asked to be announced at the 2019 Convocation, the group met online for meditation at 5 am and 5 pm—five days a week over the summer of 2019—to test and enhance the technical quality of the online meditations. For example, the group quickly learned the value of muting participants' microphones to optimize the stillness. They also discovered that the sound of the harmonium was being canceled out by Zoom software because it picked up the harmonium as background noise. So, they chose a setting called "original sound" that turns off Zoom's noise suppression feature and allows the harmonium sound to be heard. Another discovery was that all participants' microphones could not be unmuted for responses to opening and closing prayers because of differences in each participant's internet speed.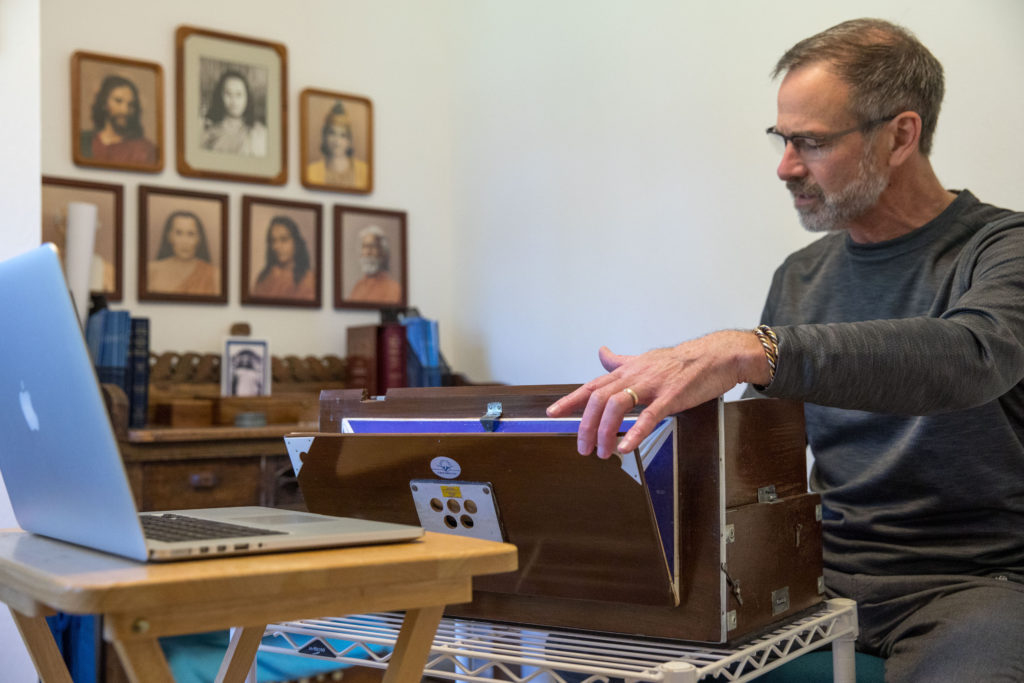 The OMC was announced by Brother Chidananda at the SRF World Convocation on August 9, 2019. The program was ready to be rolled out by late September. The first SRF online meditation was inaugurated by Brother Chidananda on Sunday, October 6, 2019.
Attendance during the early months of the OMC ballooned from 4,000 weekly attendees to more than double that number in March 2020. Members from more than 88 countries have participated in the more than 30 weekly online meditations, with the bulk from the United States and India. Monastic-led meditations along with the 5 am and 5 pm meditations are among the most popular.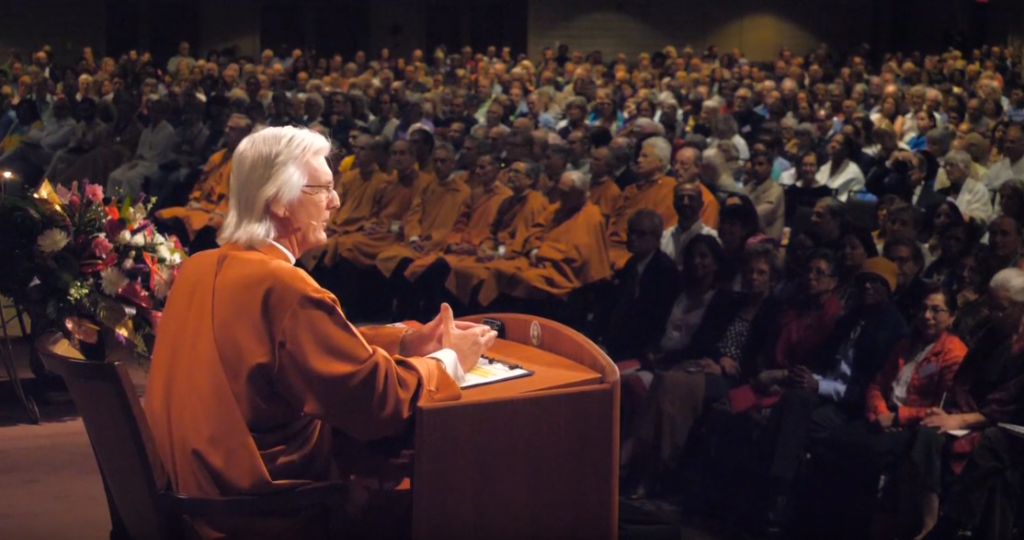 "How rapidly services were added to our initial four meditations per day was breathtaking," said Nella Rogers, a devotee of 45 years from the Victoria, British Columbia SRF group, who co-leads the OMC meditation leader support team with Keith Valdez, a devotee of 31 years from the SRF Berkeley Temple. Both were part of the initial team. The SRF Online Meditation Center has now expanded to between five and seven lay-led meditations and scriptural reading services per day. The number of monastic-led meditations has increased from three per month to 24 per month, including those led by YSS monks live-streamed from India. 
The number of lay volunteers also has increased from an initial 12 to a global team of more than 160—130 meditation leaders and ushers, and 30 administrative volunteers.

What does the future hold for the SRF Online Meditation Center? Possibilities include: new meditation times, new languages, new Lessons study times, long meditations with kirtans, and many new and innovative ways for devotees to engage with each other through the online platform. An ongoing goal is to bring regularity to individual devotees' group meditations and group study of the Lessons.
The SRF Online Meditation Center "laid a foundation for people to come and find God," says Ravi. "We have everything we need to be with God right now. You can tap into that no matter when or where. It doesn't conflict with your personal situation. There can be one spouse on the path and one that's not. Now you can attend a meditation without having to leave the house. It helps the children too, to see their parents meditating at home. Kids can be sitting next to their parents while they are meditating or reading the scriptures. Before this, they couldn't participate. The SRF Online Meditation Center helps facilitate bringing meditation into the routine of daily life… which was a large part of Paramahansa Yogananda's mission."*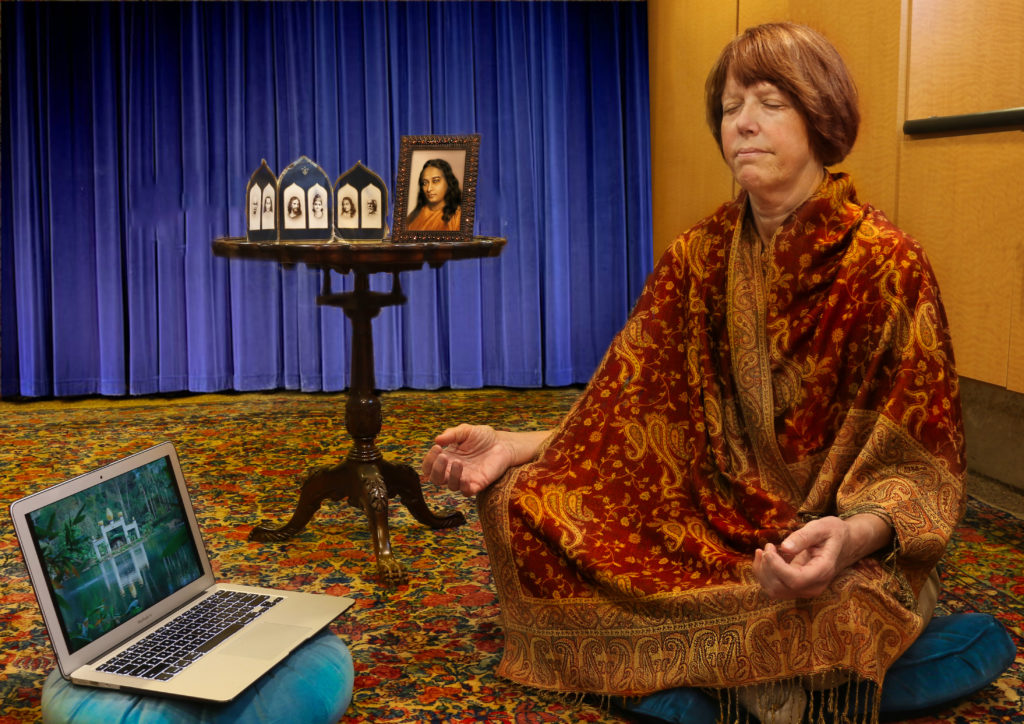 If you would like to participate in the Online Meditation Center, please visit srfonlinemeditation.org. If you are a SRF/YSS Kriyaban and would like to volunteer for the OMC, please email onlinemeditationcenter@yoganandaseva.org or fill out the online volunteer form and indicate whether you would like to be a meditation leader, usher, or fulfill another role.
* See Self-Realization Fellowship Aims & Ideals