An inspiring feature of Self-Realization magazine is "Letters to Self-Realization Fellowship", in which devotees share the transforming blessings brought to their lives by the Master's touch. Some speak of the benefits of the SRF Lessons, others of the Guru's books or the Self-Realization magazine, or of attendance at retreats or Convocations. And some writers from around the world share the great benefits of the visits of the monastics to their countries. Examples:
"I am writing to express my appreciation for the ministerial visit of Brother
Ramananda and Barhmachari Austin to Perth over the Easter period.
It has been a spiritually uplifting and enlightening experience."
M.P., East Freemantle, Australia
"This was one of the very most important spiritual gatherings for me
in the 33 years I've been on the path. Such a deep, still message of
how to maintain intimacy with God in every moment."
J.M., Canada
Now at last, all those devotees across the planet who have never been in the presence of an SRF or YSS minister can enjoy such a contact. Since the release in October 2019 of the SRF Online Meditation Center (OMC), any disciple anywhere in the world who owns a laptop, tablet or smartphone can participate in a live worldwide meditation. The introduction of monastic-led online meditations in January, 2020 to the OMC schedule of services is a remarkable addition to a program that has been deeply appreciated since its inception.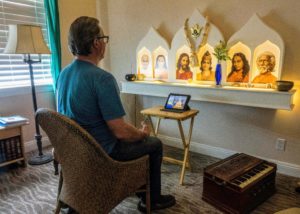 What are the particular benefits of a service led by a monastic? One outcome is simply deepened devotion. The eagerness and soul ardor participants bring ensures that such a visit will make the Master's presence palpable. Having spent years in SRF/YSS ashrams, monastics designated to lead an OMC service can bring a special focus and wealth of experience that conveys the sacredness of the ashram.
Another outcome is learning. Whereas lay leaders follow a set routine, monastics are free to teach or share insights while leading the service. Since the ministers have served disciples in a variety of roles and situations, they offer participants the opportunity to absorb new ideas and ways of thinking about their sadhana. 
Devotees' enthusiasm about online meditations led by monastics is conveyed in their expressions of appreciation. Here are some of them:
"Thank you so much for the monastic-led meditation this evening. It was so helpful. I love SRF. I Love Master's teachings. I am so grateful that I have a God-Actualized GURU." – B.B., Indiana
"At [our local SRF] center the monastic visits are few. So I love the online monastic led meditations. I cried the first one we had, it was so amazing." – S.L., California
"I've been in SRF for 41 years and not only was it one of my richest meditations in recent memory, but I actually learned a few things." – D.T., Ontario
"Today I participated in the Monastic meditation and wanted to tell you it was beautiful. It brought tears of joy to my heart. It is incredible to feel so connected through meditation online with all of Guru's devotees. Thank you for creating this online meditation. It continues to help my spiritual development." – E.B., Texas
"We (my self and my family) just attended the commemorative service held by [the SRF monastic]…Many thanks to all of you who made this possible. It has been a wonderful experience. We enjoyed it very much! Jai Guru! Jai Ma!" – F.M.F., Italy
"I just wanted to say how much I appreciate these services! And to say thanks so much for the meditation led by [the SRF monastic]. It was truly a spiritual boost – felt like a powerful 'spiritual blast', all the way to a devotee in Toronto! " – M.F., Toronto
"We got a glimpse of how it must have been during Master's time!! Master's consciousness will sweep the world if we keep this up." – S.I., United Kingdom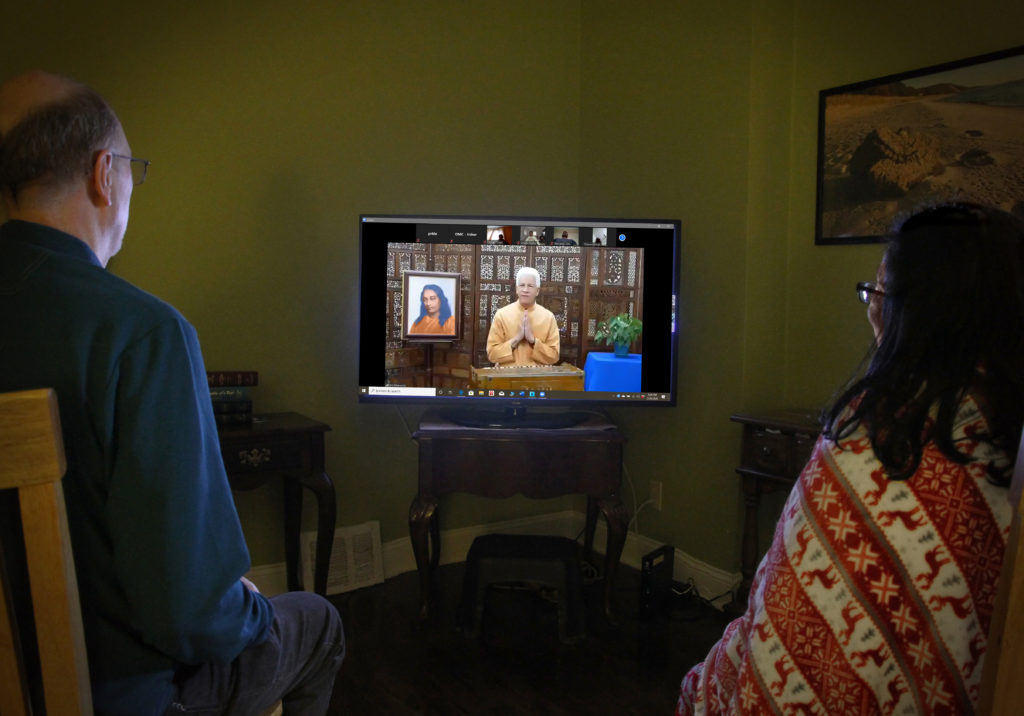 Readers are encouraged to participate in upcoming monastic-led OMC services. These include YSS monastic-led meditations on Monday, March 23, and Thursday, March 26, and an SRF monastic-led meditation on Wednesday, March 25. Check the SRF OMC calendar to see the service times listed in your local time zone: srfonlinemeditation.org/calendar.

SRF ministers will continue to journey to other lands to serve devotees. Meanwhile, one monastic can convey those healing vibrations to hundreds of members online in a single hour.